Ferret Links
If you link to this site (emptyonline.tripod.com) from your own ferret site, I'll link to yours! Barnaby's site gets about 10-40 visitors a day. Not too much, but it's also listed with Yahoo...so if your site is new and you want to get the word out, this is one way you can! Just send me your webpage address after linking to Barnaby, and I'll be happy to add it. :) But please remember to tell me after you link to the site -- I'd like to return the favor!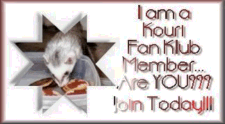 21st Century Ferret All profits on purchases benefit a ferret shelter in Las Vegas. There are some really beautiful items!
The Blurry Furry's website has ferret-related pictures, links, poems, etc.
Cascade Ferret Network Adoption/rescue, also contains a cool ferret webcam!
Dastardly and Muttley's Homepage Great pictures!
Ferret Central Links to all sorts of informative and fun ferret pages.
Frolicking Ferrets offers e-cards, links, the Rainbow Bridge, and much more.
Kity Kat's Fur Faces Ferret care, articles, poems, links, and much more!
Kouri's Fan Club A club for ferrets and their owners, proceeds going to a shelter fund.

---
'Toon Links
You can probably tell -- I enjoy cartoons! Here are some of my favorites, all non-ferret-related but cool anyway.



If you are like me, you have a local paper that carries cartoons that aren't laugh-inducing unless you have an overactive funny-bone. Every Sunday my dad asks me about the comics section, "any good ones in there this week?" and I have to reply, "nope." This is probably because they don't carry any of the comics I mentioned above. :( OK, well, Wallace and Gromit isn't exactly a daily cartoon, but I digress...

Here are a couple of sites that come to the rescue for the poor laugh-deprived people out there whose local papers don't know how to choose funny cartoons. They can even e-mail you your favorite cartoons daily!

Comics.com
Ucomics.com