This page takes a while to load...but it's worth it if you like to look at ferret pictures!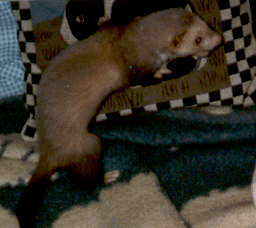 Baby Pepita on her first day home (1996).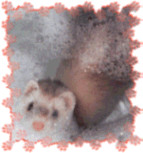 You can make bubbles for your ferrets' bath-time by putting in
a couple drops of their ferret shampoo (make sure it is safe for
the eyes). Only use this if your fuzzy isn't prone to eating soap!
This picture was edited by Sharon L. Bearden. Isn't the border cute?
Pepita, 1998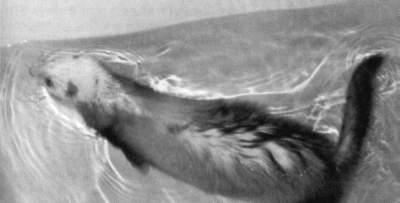 Ferrets may also enjoy swimming around in the water...but don't
count on it. Not all ferrets are like their otter cousins.
Pepita, 1998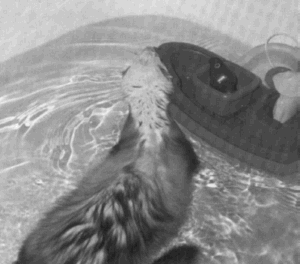 Toys can make bath-time more fun. This is a Playmobil 1-2-3
fishing boat.
Pepita, 1998

Don't forget to dry off after a good swim!
Pepita, 1998

Phew! It's been a long day! G'night!

"Oh, look at my bee-yoo-tee-ful tail!"
March 2, 2001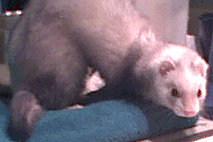 "Hey! Who said you could take my picture?!"
March 2, 2001

"Boy, either you're tall or I'm kinda short!"
March 2, 2001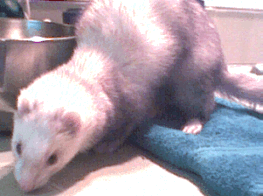 "Is there any Ferretone around here somewhere?"
March 2, 2001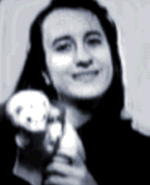 This is Pepita, maybe around 1998 or 1999, and me. She had a thick, light winter coat when this photo was taken...I like her winter coat better than her spring jacket. ;)
March 2, 2001


Pepita moves so quickly that I've found that one of the best places
to take a photo of her is in the bathtub (with or without water).
She can get out of the tub, but it gives me a few moments to snap a shot.
Call your ferret's name to get him or her to look up at you, or get on your
knees to get closer.

March 10, 2001

"How do you turn this thing on?!"
March 10, 2001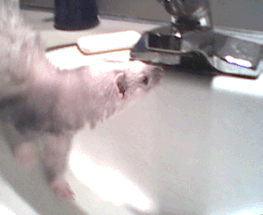 "Hellooooooo?! Any water in there?!"
March 10, 2001

"Water! Water! Water!"
March 10, 2001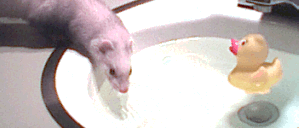 "Water and a ducky?! Life is so good."
Note from Melissa: Pepita has always been obsessed with water!
March 10, 2001
---