Why is there no Barnaby clip-art?! I don't want him popping up all over the place (as ferrets tend to do when no one is looking!). If you have seen Barnaby on shelter pages or other places, it's because the graphics have either been donated or purchased (or pirated -- ack I hope not!). If you're interested in finding out more about how to get Barnaby graphics for your own use, please e-mail me using the link at left. I do offer one Barnaby graphic for use on webpages, with some special little "rules," though. :) See below for more information.
---
Clip Art
Out of all of the graphics on the Barnaby webpage, these are the only ones you may use on your webpage...thanks! To use, remember to:
* Save the graphics to your own server (no transloading!).
* Give credit to Melissa Taylor, and the website URL: http://emptyonline.tripod.com The credit to me/this site can be printed in small print on your page...it doesn't have to be in a prominent spot or right near the picture. Here's an example of how to give credit: Graphics by Melissa Taylor
Unlike most clip art artists, I don't mind if you edit the files to change the color, resize, or crop something out that you don't like (but don't edit the Barnaby award also shown on the page). In fact, I think you SHOULD try to change these, since they are pretty bad scans with some smudges on most of the graphics. ;) I've included variations of each graphic that might give you some ideas of something you might like to do. All I ask is that you keep the graphics G-rated with whatever you do with them, and don't make them anti-ferret. Thanks, and have fun!

This little head feller could probably be turned into a background graphic if you'd like. Just make it a lot lighter so that words on the page can be read easily (such as in example four, although it should probably be even lighter than that).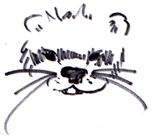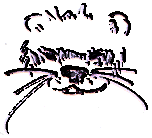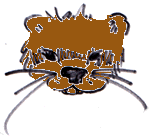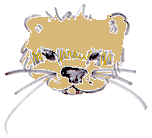 This clip art guy might look nice with one on either side of some writing you have done. I flipped the third example to show how this could be done.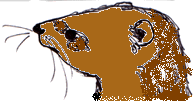 This little feller can be used to hold a greeting, welcome, or announcement on your website. The third example shows him doing this. Or, you can decapitate him and just use his head if you'd like, as in example four.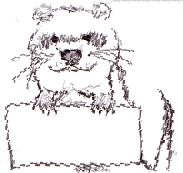 ---
Barnaby Buddy Award





Would you like to be a Barnaby Buddy? A Barnaby Buddy is someone who has a webpage that is:
Ferret-related (If it's not ferret-related, please feel free to send me your website address for me to review. Sites such as general shelter and pet sites may still apply!)
G-rated and family-friendly
Offers accurate ferret information

Is this your page? Then add the Barnaby Buddy award to your page! If you e-mail me and let me know, I will even add a link to your page in the links section. E-mail me at: barnaby@ferretlovers.com (you don't have to e-mail me to use the award, only if you want me to provide a link back to your site as a thank you for using the award. If so, please let me know both the main page of your ferret website, and also the page that contains the award).

Note: If your page is in violation of one of the above, I have the right to request you remove it. But it's pretty easy to meet the requirements. :) If your page is NOT ferret-related, you might still be able to put the award on your webpage. Just e-mail me and let me know the circumstances. (For example, your own personal webpage which talks a bit about your ferrets, or a website about all sorts of pets, etc.)